Healthy Canines Inc. would like to recommend the following books as resources for pet parents. Links to purchase these books are listed below, and we encourage you to find out more about these authors and their work on behalf of companion animals.
HEAL: THE VITAL ROLE OF DOGS IN THE SEARCH FOR CANCER CURES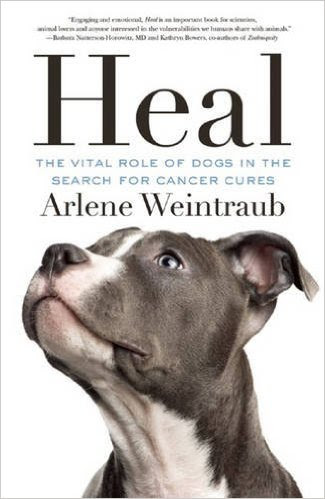 Drawn from extensive research, on-the-ground reporting, and personal experience, this book by Arlene Weintraub explores the fascinating role dogs are playing in the search for cures for cancer. Learn how veterinarians and oncologists are working together to discover new treatments — cutting-edge therapies designed to help both dogs and people suffering from cancer. Heal introduces readers to the field of comparative oncology by describing research projects aimed at finding new therapies for cancers that are similar in dogs and people. Weintraub, who lost her sister to gastric cancer, also writes about the emerging science behind the remarkable ability of dogs to sniff out early stage cancer and the efforts underway to translate that talent into diagnostic devices for early detection of the disease. In the course of bringing these dogs and their human companions to life, Weintraub takes her own personal journey from grief to healing, as she shows her readers how man's best friend might be the key to unlocking the mysteries of cancer.
To purchase the book click here:
http://www.amazon.com/Heal-Vital-Search-Cancer-Cures/dp/1770412700
http://www.barnesandnoble.com/w/heal-arlene-weintraub/1121176788?ean=9781770412705
---
DOG MEDICINE
Dog Medicine: How My Dog Saved Me from Myself captures the anguish of depression, the slow path to recovery, the beauty of forgiveness, and the astonishing ways animals can help heal even the most broken hearts and minds. At age twenty-two, Julie Barton was living her childhood dream: living in New York City, working at a publishing company, and surrounded by a group of interesting and supportive friends. Yet, a year into her dream life, Julie had a complete breakdown, collapsing on her kitchen floor and barely having the strength to call her mom for help. After weeks of intervening by her parents, psychiatrists, and medication, Julie decided to try a different kind of therapy: bringing home a Golden Retriever puppy she named Bunker that changed her life forever. With him by her side, she decided to try again at life and love.

To purchase the book click here:
http://www.penguinrandomhouse.com/books/545708/dog-medicine-by-julie-barton/9780143130017
---
UNLEASHING YOUR DOG, A FIELD GUIDE TO GIVING YOUR DOG THE BEST LIFE POSSIBLE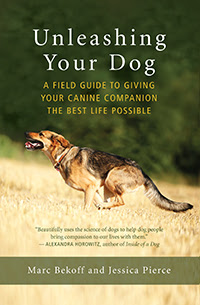 Unleashing Your Dog, A Field Guide to Giving Your Canine Companion The Best Life Possible by Marc Bekoff and Jessica Pierce. From New World Library: "No matter how cushy their lives, dogs live on our terms. They compromise their freedom and instinctual pleasure, as well as their innate strategies for coping with stress and anxiety, in exchange for the love, comfort, and care they get from us. The rewards....are great for dog and human alike."

To purchase the book click here:
https://www.newworldlibrary.com/Books/ProductDetails/tabid/64/SKU/85424/Default.aspx#.XJLViChKjIU
---

This book uses photographs and notes to tell the tales of some of the relationships between pets and their companions.
"In February 2000, Andy, my first born, a five and a half pound Yorkshire Terrier, was attacked by a 100 pound Husky. At first, the doctors thought his neck and back were broken. They wanted to put him down but they soon realized that they would have to put me down at the same time . .
This experience provided the inspiration for this book: "the devotion between people and the animals that we live with, care for, and are cared by . . . " This book does what few books on animals manage to do, which is to attempt to raise the level of human consciousness about the necessity for relationships with companion animals and the sacredness of those bonds.
To purchase the book click here:
http://www.amazon.com/Tails-Devotion-Between-People-Their/dp/0977063704
---
MOSTLY BOB BY TOM CORWIN
When Tom Corwin's golden retriever, Bob, passed away unexpectedly, Tom decided to write a letter as a tribute to Bob's life. The letter would also tell Bob's many human friends what they might not have known—the surprising story of how Bob was once a ferocious, abused, untrusting dog named Red and how he changed completely to become Tom's best friend.
Once he sent the letter out, Tom received an outpouring of heartfelt responses to what he thought was just a slightly unusual story about his dog. He came to realize his story reiterated the universal tale about the possibility of change and the power of unconditional love.
To purchase the book click here:
https://www.amazon.com/Mostly-Bob-Tom-Corwin/dp/1577315251
---
TALKING WITH DOGS AND CATS
Talking With Dogs And Cats: Joining The Conversation To Improve Behavior And Bond With Your Animals. Animal communicator Tim Link provides an overview of accessible methods with which to understand and bond with dogs and cats. Enhanced communication techniques help solve behavioral problems and help pet owners engage more deeply with their companion animals.
To purchase the book click here:
http://www.newworldlibrary.com/Books/ProductDetails/tabid/64/SKU/83222/Default.aspx#.WjLn10qnHIU
---
MY OLD DOG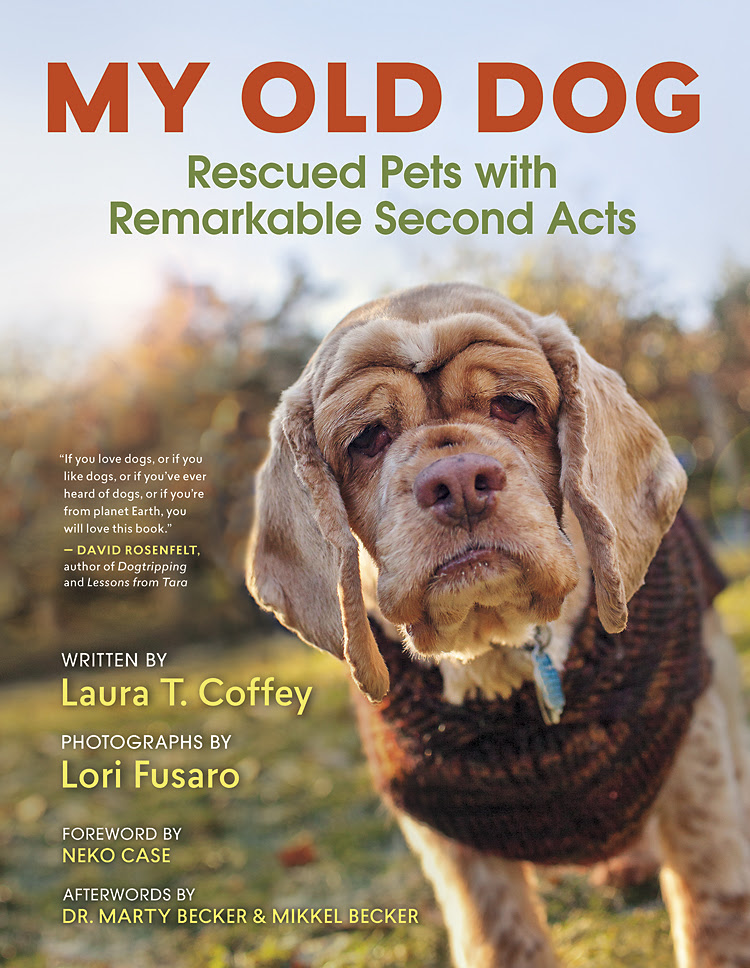 My Old Dog: Rescued Pets With Remarkable Second Acts, written by Laura T. Coffey. Photographs and stories about senior rescues that illustrate the joys and rewards of adopting senior rescue dogs. This book reminds us of the wisdom and unconditional love provided by older dogs who need a second chance at a loving home.
To purchase the book click here:
http://www.newworldlibrary.com/Books/ProductDetails/tabid/64/SKU/83406/Default.aspx#.WjLoKkqnHIU
---
THE NATURAL VET'S GUIDE TO PREVENTING AND TREATING CANCER IN DOGS BY DR. SHAWN MESSONNIER
While cancer is the second-leading cause of death in humans, it is the number one killer of American pets. With this easy-to-use guide, holistic veterinarian Dr. Shawn Messonnier, one of the nation's leading experts in integrative veterinary medicine, presents the latest research on both treating new diagnoses of cancer and preventing cancer before it takes the lives of our beloved family pets.
After using conventional therapies for several years, Dr. Messonnier became convinced that many pets that were not improving with lifelong use of conventional medications might improve if some type of alternative treatment were available. Presenting clinical studies supporting these treatments and his own extensive clinical experience where studies aren't yet available, Dr. Messonnier gives readers an objective and up-to-date survey, complete with the pros and cons of each treatment, of all the integrative options available for treating and preventing cancer in dogs.
To purchase the book click here:

http://www.newworldlibrary.com
---
JONATHAN UNLEASHED
Jonathan Unleashed by Meg Rosoff. This delightful and hilarious novel is for dog lovers and anyone who ever felt confounded by adult life. Jonathan Trefoil's boss is unhinged, his relationship baffling, and his apartment just the wrong side of legal. His girlfriend wants to marry someone just like him–only richer and with a different sense of humor. When his brother asks him to look after his dogs, Jonathan's worldview begins to shift. Could a border collie and a cocker spaniel hold the key to life, the universe, and everything? Their sly maneuvering on daily walks and visits to the alluring vet suggest that human emotional intelligence may not be top dog after all. A funny, wise romantic comedy set in Manhattan, Jonathan Unleashed is a story of tangled relationships, friendships, and dogs. Rosoff's novel is for anyone wondering how to be a grown-up (and maybe even why).
To purchase the book click here:
http://www.penguinrandomhouse.com/books/533611/jonathan-unleashed-by-meg-rosoff
---
DARLING I LOVE YOU
A heartwarming collection of short verse celebrating our beloved pets and the wonder of life. Daniel Ladinsky is the internationally acclaimed poet and translator known for his inspired, contemporary versions of works by Hafiz, Rumi, St. Francis of Assisi, and poet-saints East and West. Patrick McDonnell is the venerated author, artist, and creator of the beloved MUTTS comic strip. In Darling, I Love You! these two artists have collaborated for the first time to create a delightful, universal collection of sweet, welcome-to-the-moment poems about the essential places animals and wonder hold in our lives and in our hearts, accompanied by line drawings of the illustrious MUTTS characters that readers have come to know and love.
To purchase the book click here:
http://www.penguinrandomhouse.com/books/318791/darling-i-love-you-by-daniel-ladinsky-illustrated-by-patrick-mcdonnell/9780143128267
---
RESCUING LADYBUGS: INSPIRATIONAL ENCOUNTERS WITH ANIMALS THAT CHANGED THE WORLD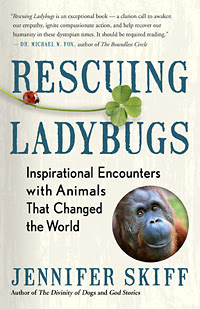 Rescuing Ladybugs: Inspirational Encounters with Animals That Changed the World by Jennifer Skiff. Countless times throughout our lives, we're presented with a choice to help another soul. Rescuing Ladybugs highlights the true stories of remarkable people — leaders in the compassion movement — who didn't look away from seemingly impossible-to-change situations and instead worked to save animals.
To purchase the book click here:
https://www.newworldlibrary.com/Books/ProductDetails/tabid/64/SKU/85028/Default.aspx#.W5QuNehKjIU
---
SMART ASS: HOW A DONKEY CHALLENGED ME TO ACCEPT HIS TRUE NATURE & REDISCOVER MY OWN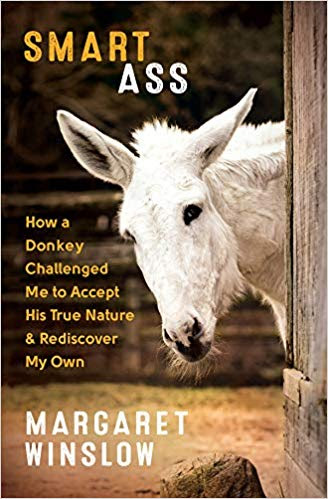 Margarent Winslow, a field geologist with a lifelong love of donkeys, assumes that her new donkey Caleb can be trained to perform like a horse. She soon finds out that Caleb has other plans. Winslow's gradual understanding of Caleb's true nature helps her understand her own life as they learn to love each other.
To purchase the book click here:
https://www.amazon.com/Smart-Ass-Donkey-Challenged-Rediscover/dp/160868590X
---